Jewellery can create memories that last a lifetime. From bold statement pieces to a delicate collection, a gift or a family heirloom; jewellery has long been used to express ourselves and how we feel about one another.

Jewellery has something to offer everyone, from fast-fashion and luxury diamonds, celebratory pieces and vintage designs, it appears that there is no end to the increasing demand.
But not that glitters is gold in this industry.
The jewellery industry expects to reach $480.5 billion US by 2025, according to a report by Grand View Research, Inc. 2018.
Three main reasons
why the jewellery industry is changing
The way we buy is shifting as brands continue to use digital and social media to reach customers around the world.
This provides companies with the ability to create relationships, personalise the design and show off a new or upcoming collection before it hits the stores.
According to a recent survey, over two-thirds of luxury shoppers prefer to conduct online research before shopping in-store, and the same percentage of customers also engage in social media before purchasing an item.
Research shows that in today's current market, women are purchasing jewellery for themselves and celebrating their own independence and personal success.
This is starting to shift the way products are being purchased.
Local artisans and brands are now looking into the impact that the industry has on both the environment and the community, and offering eco-friendly alternatives.
Questions are Being Raised by the Consumers
So, with so much pre-purchase research and thought, and a fast-growing market, are consumers also considering where their jewellery comes from?
Who makes it or why that even matters in 2020?
The answer is yes!
There is an upcoming generation who wants to understand the story behind what they are purchasing and who it is affecting.
This has opened a creative space of opportunity for sustainable jewellery brands who have a plan for a better future to launch their ethical collections.
The diamonds and gold industry
Diamonds and gold are considered a symbol of affluence and romance but, now more than ever, there is an increase in awareness around the heartache that sourcing such materials can cause.
Human casualties and environmental losses are a devastating side effect of the mining industry and, as the media continues to bring these issues to light, it becomes difficult for us to turn away.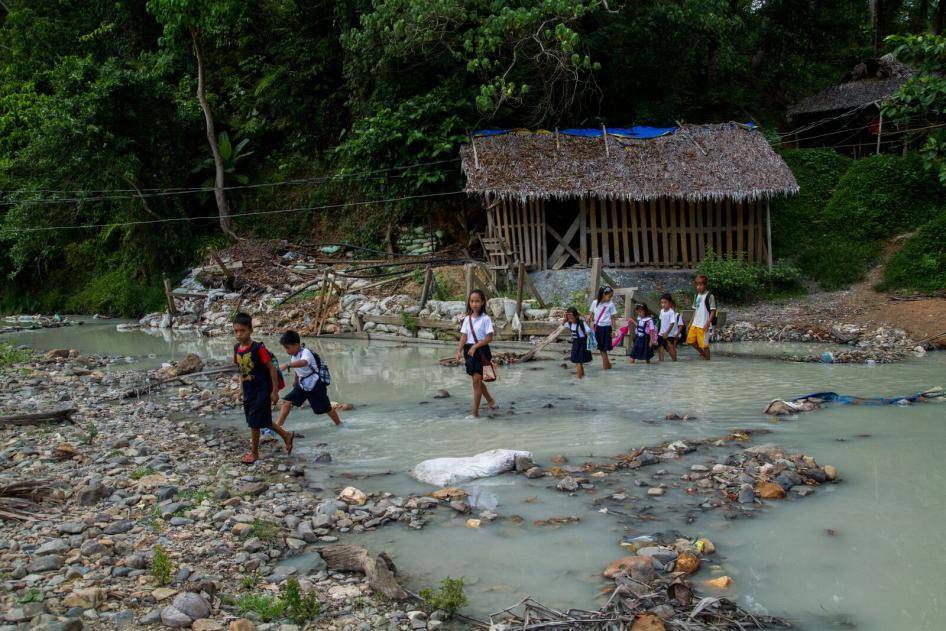 School children cross a mercury-polluted river in Malaya, Camarines Norte, Philippines
© 2015 Mark Z. Saludes for Human Rights Watch
$300 billion US
in profit
Human Rights Watch reported that around 90 million carats of diamonds plus over 1,600 tons of gold are mined for the jewellery industry each year.

This alone generates over $300 billion US in profit.
It may come as a surprise, but it is often a very complex process to find out where your jewellery comes from.
This is due to a lengthy supply chain that moves products across borders.
So, what exactly do I need to know about diamonds and gold?
Many of these minerals come from some of the poorest regions in the world.

According to the World Bank, artisanal mining involves over 100 million people and human rights violations are all too common.
There is the issue of poorly managed mines by large corporations who are destroying the earth with harsh toxic chemicals that produce a large amount of waste in the manufacturing process.
180 million tons
of
toxic waste
To give you some idea of the waste produced, over 180 million tons of toxic waste is dumped from mines every year.
It takes 20 tons of waste to produce a gold ring.
For some consumers, the desire to own jewellery means sourcing a cleaner alternative.